"Given [NPR's] cultural associations, we were interested in finding out where there was the most demand for the likes of Terry Gross and Garrison Keillor….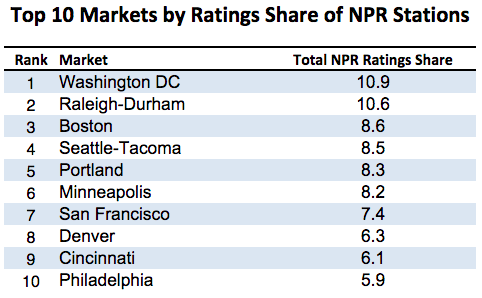 Dan Kopf, Priceonomics; Data: RADIO ONLINE
"NPR's headquarters are in Washington, and it is also the market in which their stations have the largest share. DC is followed by the higher-education saturated market of Raleigh-Durham — part of the 'Research Triangle' — driven by the huge popularity of University of North Carolina run WUNC. Ray Magliozzi of 'Car Talk' would be proud to see Boston sliding in at No. 3.  And given the stereotypes about Pacific Northwesterners, it is no surprise that Portland and Seattle make the top five."
— From "How Radio Explains America" by Dan Kopf at Priceonomics (Aug. 4)
Not to be left out, Charlotte's radio audience can claim a No. 2 share of its own….