The Southern Folklife Collection, along with UNC Libraries, is excited to present our upcoming event, Women of Early Blues Guitar, with a very special thanks to the Martin Guitar Charitable Foundation for their support.
Join us on Wednesday, October 19th at 7PM Eastern for this evening of conversation and music, featuring Valerie Turner of the Piedmont Blūz Acoustic Duo.  This event will be virtual and is free of charge.
Register at this link to sign up for what promises to be an educational and fun program: go.unc.edu/piedmontbluz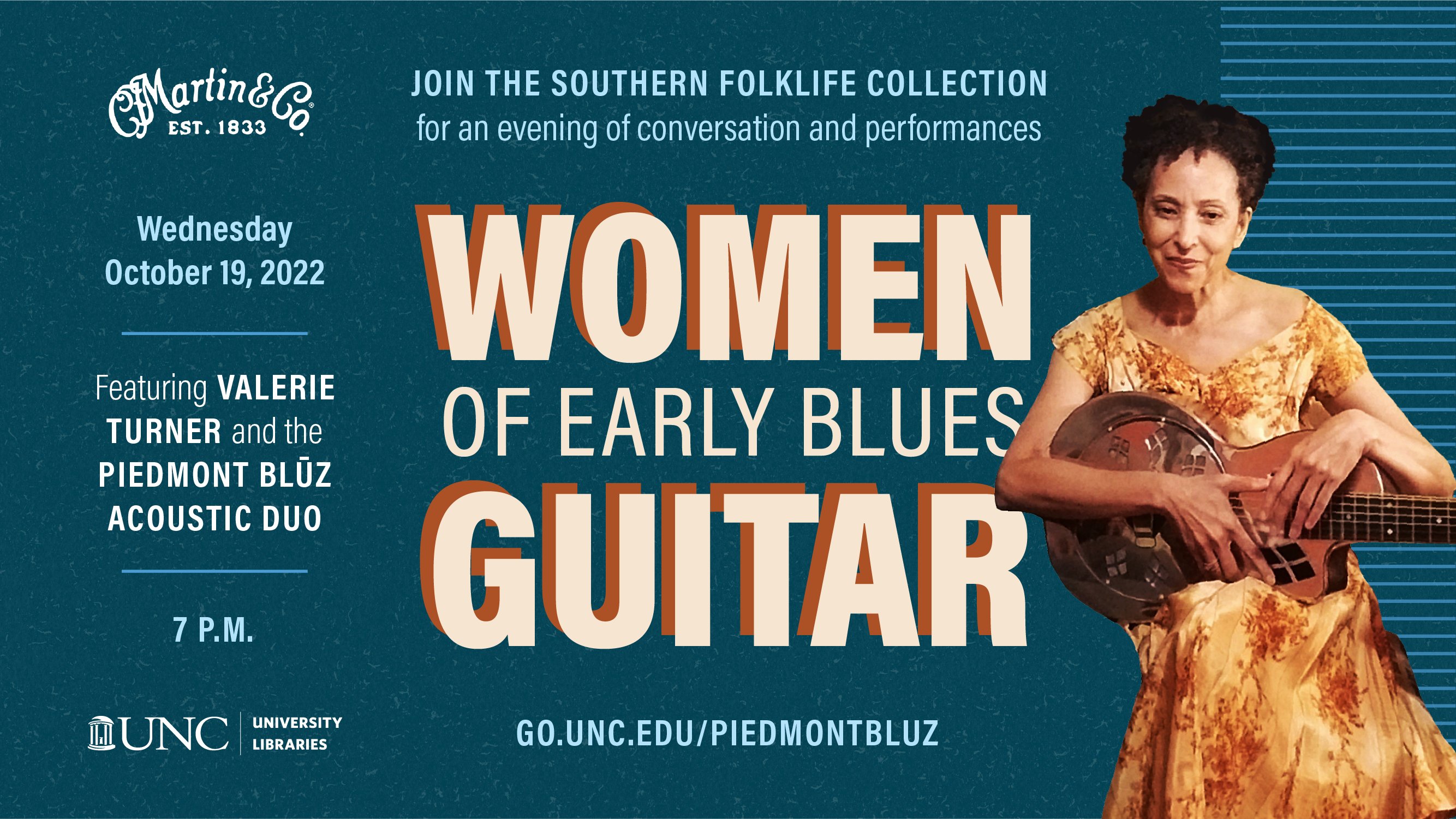 The SFC is the home of a number of collections that contain a wealth of resources about the Piedmont Blues, a genre which is distinguished by its guitar picking style that uses the thumb to lay down the bass line (or the melody if you are doing it reverse left-handed like Elizabeth Cotten) with the player's forefinger syncopating a melody above.
You can see and hear an example here from the Piedmont Blūz site of "Spanish Flang Dang," from an arrangement by Cotten:
Among the many collections held by the SFC that relate to the history of the Piedmont Blues, the Folkstreams.net Collection (#20384) contains perhaps the definitive documentary on the style, Step It Up and Go, which features prominent women pickers in the style, North Carolina residents Etta Baker, Cora Phillips, and Algia Mae Hinton.  This film was produced by Glenn Hinson (#20045) and Susan Massengale (#20278), both of whose collections are held here and available for research.
The SFC also holds the collections of the two people co-credited with coining "Piedmont Blues," folklorists Peter B. Lowry (Peter B. Lowry Collection, #20017) and Bruce Bastin (Bruce Bastin Collection, #20428), with many digitized audio examples in both collections.
The Music Maker Foundation has long supported the lives and legacies of many of these musicians, and the SFC holds the collection of the founder of the MMF, the Timothy Duffy Collection (#20044).
Other SFC collections to explore with many Piedmont Blues-related findings are the Nancy Kalow Collection (#20113), the North Carolina Folklife Institute Collection (#20210), the Kenny Dalsheimer Collection (#20320), and the Judith McWillie Videotapes Collection (#20455).
We hope you are able to join us October 19th for this program, and welcome you to explore these related collections to discover more on this subject.